Rheumatology Treatment Helps You Play, Work & Live Better
The specially trained Rheumatology physicians at Idaho Arthritis Center provide expert diagnosis and world-class treatment to patients affected by rheumatic disorders. We use Musculoskeletal Ultrasound and Immunotherapy (also known as Infusion Therapy) to diagnose and treat our patients. Our high-complexity, CLIA certified lab allows our lab technicians to perform tests in-house so that treatment may begin as soon as possible. For our patients, this means getting back to daily life with less pain.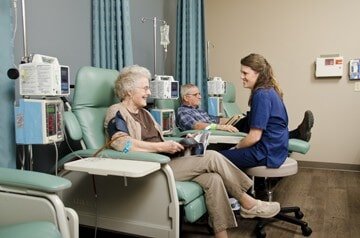 Musculoskeletal Ultrasound
Considered a Rheumatologist's "stethoscope", Musculoskeletal Ultrasound is a novel approach to the accurate diagnosis and treatment of several forms of arthritis. Our state-of-the-art ultrasound provides excellent images of early joint damage, joint inflammation, tendon or ligament tears, and Carpal Tunnel Syndrome. The Rheumatologists at Idaho Arthritis Center were the first in Idaho to offer this remarkable technology.
Immunotherapy
Immunotherapy, or Infusion Therapy, has been a revolution in the care of Rheumatoid Arthritis, Psoriatic Arthritis, Lupus, and Osteoporosis. The intravenous (IV) medications used for these disorders include:
Patients are infused in a comfortable environment under the constant care of our experienced registered IV nurses. Our physicians are available just steps away to address any potential issues.
In-House Laboratory
Comprehensive rheumatology labs in our CLIA Certified Laboratory are offered in-house to diagnose and comprehensively treat a wide spectrum of rheumatic diseases.